Watch the video below to get a full step by step by step guide in using our PrintIQ system to obtain print reseller pricing. At Mediapoint, we are trade only printers. What this means is that we only deal with a print reseller and not the end users of print. That means we will not compete against you in our marketing or taking jobs from your customers. We also aim to get orders out fast, with over 80% of our products which are ordered by 12 noon on a given business day, is ready for dispatch at 1 pm the next business day. We also are renowned for our reliability in our quality which means band free prints and getting orders to your customer without an issue. This means fewer phone calls and issues for you to deal with. We believe this is the only way to be trustworthy trade only printers.
If you are having trouble watching the above video or do not have sound, then we also have a step by step guide below: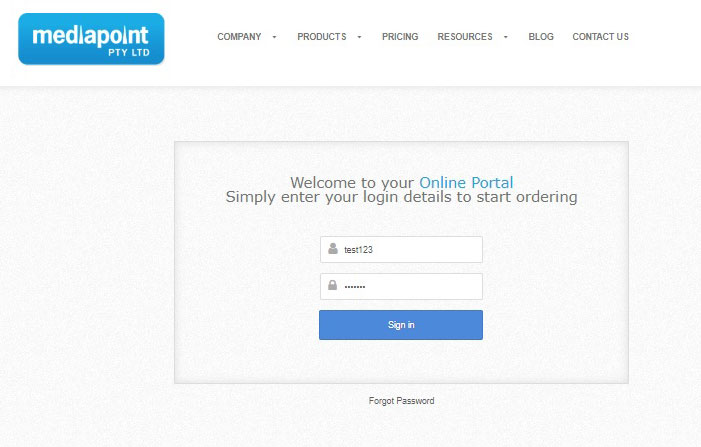 Step One: Login to PrintIQ
Go to our webpage at www.mediapoint.com.au
On the top menu on the very right there is a login button, press this.
You will get taken to the login page as shown in this image. Login using your credentials.
If you are having issues with your password use the forgotten password function at the bottom of the form to reset your password.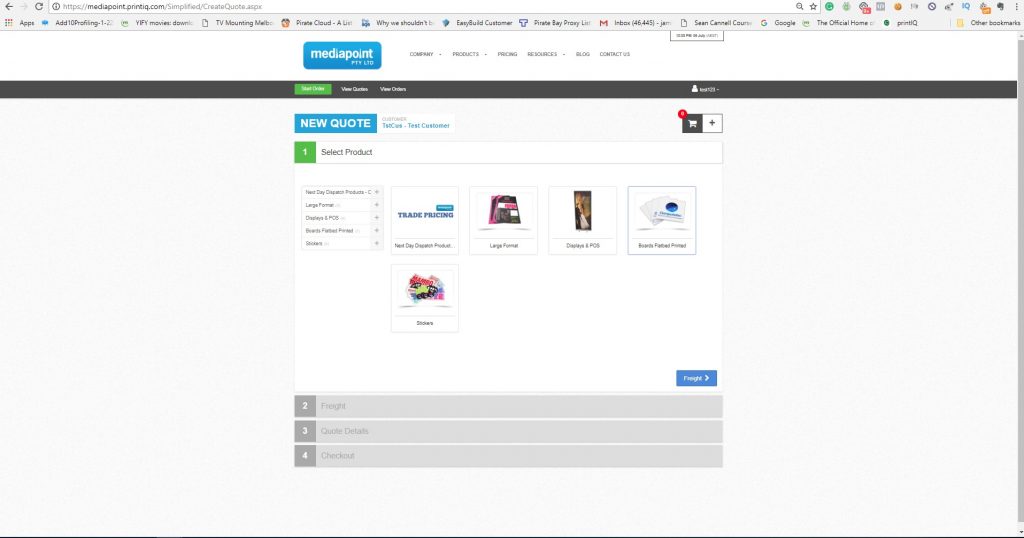 Step Two: Start a Quote
In the top menu click on the green 'Start Order' button and select simplified product.
You will be taken to the first step of doing a quote. Click on the category of the product you would like to order. The click on the product you would like a price for.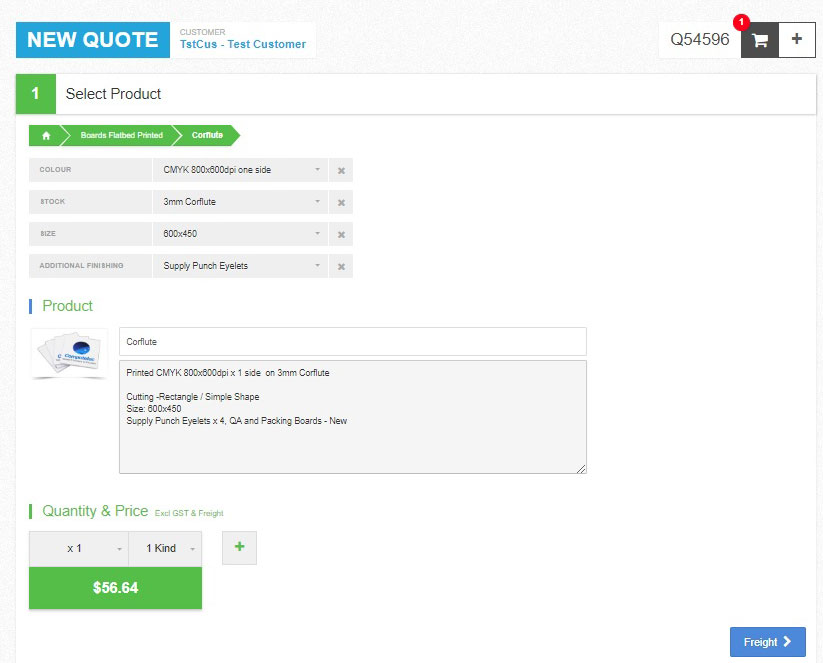 Step Three: Enter the Specifications
The first step is actually putting the specifications of your product into PrintIQ.
The first question asks if what is printed is single or double-sided. You can also see the DPI we would be printing at. The second drop down asks what stock you would like this printed on as some products have a range of thicknesses and brands. The third drop down asks for the size. There are usually 3 pre-defined sizes. There is also a custom size option. In the custom size option if you are having trouble inputting a size then please swap the sizes around. The final drop is the additional finishing option in case you needed to add any special finishing operations.
Then you will need to click the get price function. If you ever want to change any of the above points, you will need to repeat this process and click the get price function again. You will be able to select your quantity and calculate a price for up to 4 quantity ranges. Then proceed with the freight button.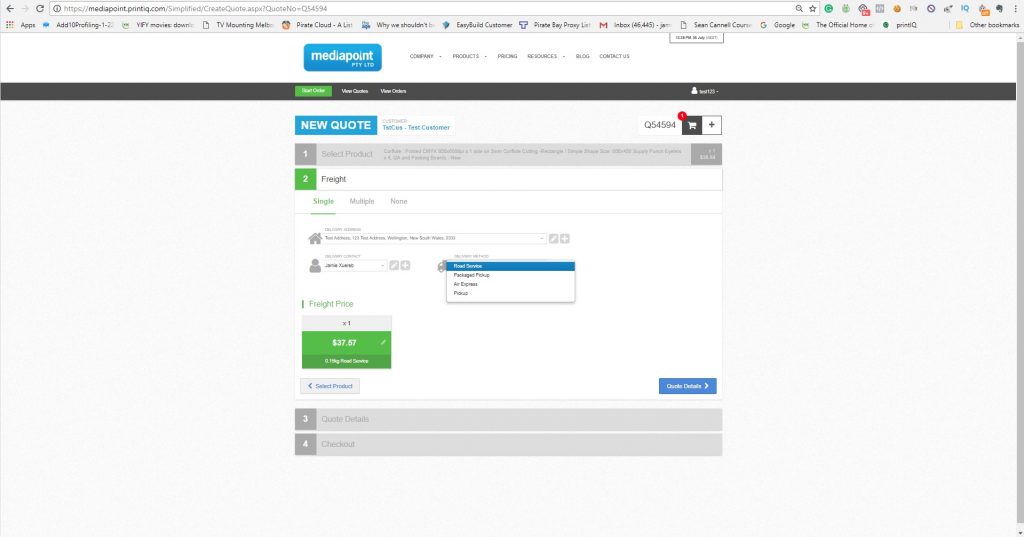 STEP FOUR: Calculate Freight
You will need to either select an existing address (such as your own) or a past address you have sent to. You can also add a new address in PrintIQ. We blind-ship all orders so we can ship straight to your customers.
For the contact name, you can have the name of the person receiving it, but the email address will receive the shipping details once shipped. This comes out of a generic Gmail address with no mention of Mediapoint.
Then you can select from a range of shipping options. The prices will vary depending on weight and shipping method. But it will affect your shipping lead times.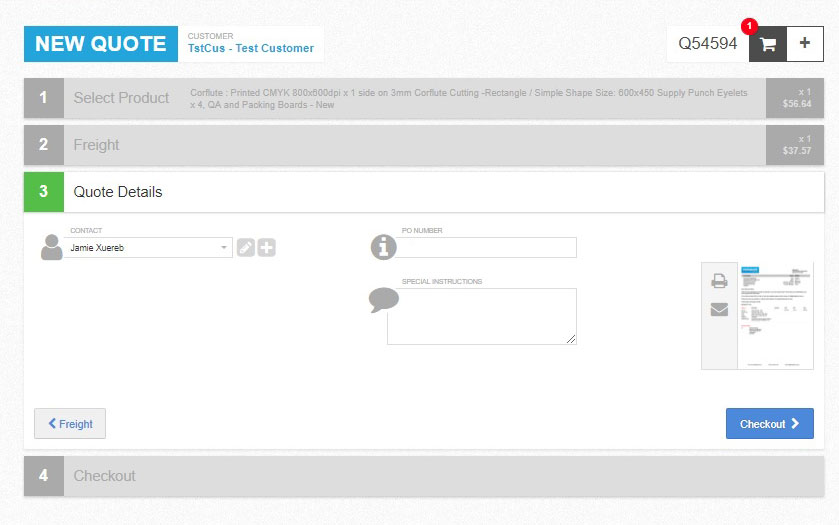 Step Five: View Your Print Reseller Quote
In this step, you can view your quote to save by clicking on the image of the quote.
You can also add any PO numbers and special instruction.
You can also come back to this quote via the View Quotes link in the top menu.
Click Checkout when you are ready to proceed.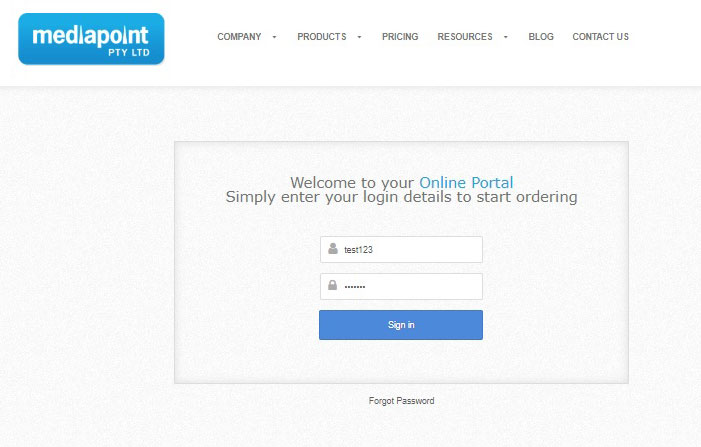 Step Six: Checkout
You can view the final details of the order on this page. If you want to add a product to the quote click the + button in the top right-hand corner. If you want to edit the product, click on the shopping cart and click the edit button. This will take you back to the first step of the quote.
When you are ready to proceed, press the blue button in the bottom right-hand corner.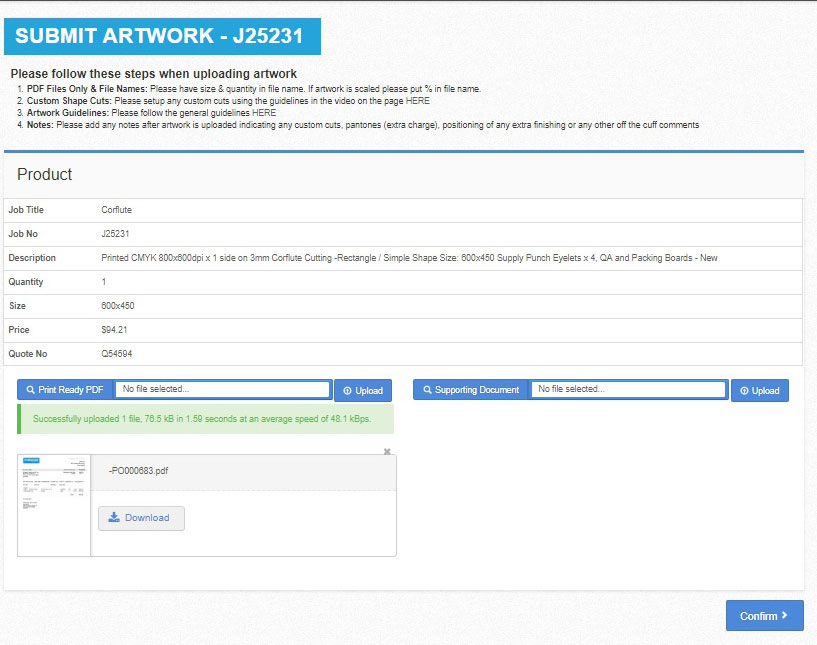 Step Seven: Upload Artwork
On this page you can upload your job artwork. All files need to be PDF files and we do not accept any other file formats. For our artwork specs check out each individual product page for which you are ordering and click to the Artwork Specs tab for each. You can get to our products via this link: PRODUCTS
You can also upload supporting documents if there are any special shipping labels or anything else. Please also put the quantities at the end of your file name.
Once your artwork is uploaded press the proceed blue button on the bottom right-hand corner.
PLEASE NOTE: We are trade only printers, so we do not have any in-house design functions to fix your artwork. All artwork needs to be to our specifications. That is how we can offer the best pricing and service to our print reseller customers.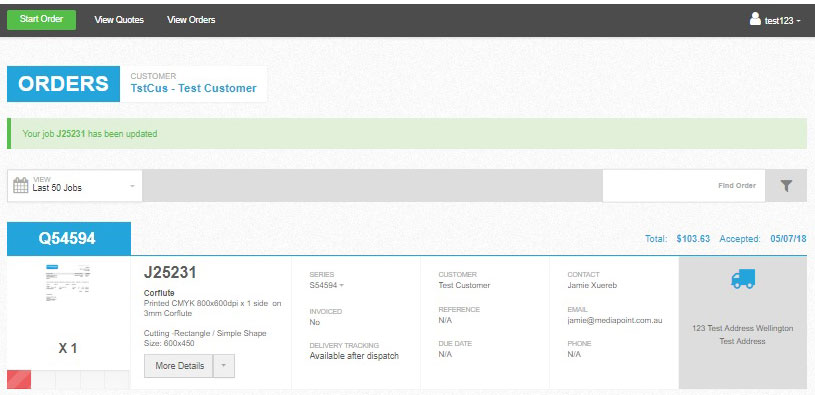 Step Eight: Your Order Is In Our System
You will be taken to the page on the left showing that your order is in. One of our customer service staff will check your job before letting you know that your order is in. They will also flick you an email.
If there are any issues they will let you know as well.
You can track the progress of your order by going to my orders. You can see any tracking numbers and updates by coming back to my orders. This ensures that you as a print reseller have all the information that you need to give to your customer when they ask for an ETA. This is how we believe all trade only printers should work.
There you have it, that is how to order off our PrintIQ system for our print reseller customers. Remember at Mediapoint we are trade only printers.